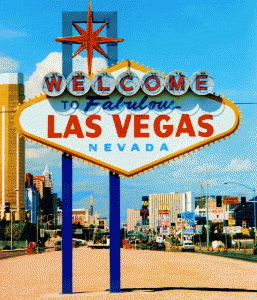 Viva Las Vegas! A popular choice is to get all of the groomsmen to splurge on a weekend trip together in a city whos motto is "what happens here, stays here?" From the abundant amount of casinos and gambling to restaurants and supersized strip joints to even legalized prostitution. This city is a grown man's playground. Ready to book? Don't leave just yet, theres a couple of things to consider before you do!
A) Las Vegas Stag Parties can get extremely expensive quick. Figure out your budget and make sure your group can afford it.

B) Due to the city's reputation, many women (especially brides-to-be) may be far more suspicious about a Las Vegas Bachelor Party than a hometown event. Don't put the groom in the doghouse before he's even done anything!

C) If you're not a high-roller, it can be difficult to get into Las Vegas' hot spots – Drai's at the Barbary Coast, Rain at the Palms Casino, and Pure at Caesars are just a few to consider. If you decided to venture the nightlife, be sure to leave your jeans and sneakers at home, you need to look your best if you want a shot at getting in. If you need help making arrangements for clubs, bookings, bottle service, its probably best to hire a local LV party planner. They can make all arrangements and have packages that include gentlemen's clubs, dinner arrangements, limousine service, and much much more.
Here are a few additional tips to help make your Vegas Bachelor Party successful:
* Take Limos – If you're planning on hitting a couple different spots, and you've got six or seven guys, it is not only more fun but also cheaper to rent a limo rather than taking cabs.
* NO Cameras – we all know that you will behave and keep the groom out of trouble, however, the picture of the groom's face in a stripper's cleavage may may not go over well with the bride.
* Figure out how much money you need BEFORE you go out – you may end up gambling it away or hand some beautiful dancer most of your savingsotherwise you may end up gambling away your life savings, Las Vegas has a crazy way of convincing you that you don't need your money.
The Steak Dinner:
There is no dinner more manly than a Steak. Try one of these Steak restaurants in Las Vegas, and we are confident you will be impressed:
1. N9NE Steak House
2. Craftsteak
3. CUT
4. Prime Steakhouse
5. A.J's Steakhouse
Afterwards, take a limo to a cigar lounge or piano bar where you can relax and gawk, while telling each other war stories. Or follow it up with a legendary poker party in one of the many casinos.
Whatever you decide to do, make sure the groom is front and center in your planning. While you want everyone to have a good time, he's the one who really matters. If he's a low-key kind of guy, maybe a night of drinking and vomiting is not the best idea. Also, keep in mind that there's no reason you can't do a combination of these Bachelor Party ideas – perhaps a golf tournament during the day, followed by a steak and cigar party that evening. Pick a few different activities and keep everyone happy. KRD7BDURYPEW
‹

Go Back