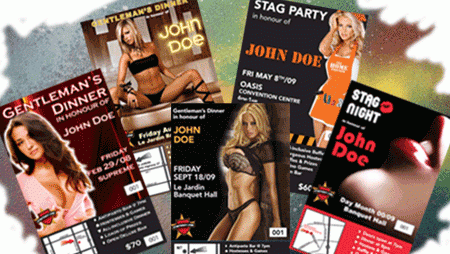 Stag And Doe parties are parties held by an engagement couple to raise money for their wedding. They are also known as a Jack and Jill Invitations. Invitations are made and delivered to attendees who usually purchase them for a particular amount.
People often assume that Stag and Doe Parties are tacky because they are often cheap and do not inspire a party mood.
Here are 5 tips to make your Jack and Jill Invitations the envy of all;
Have a classy theme that the Stag and Doe Invitations card conveys. For instance, for a masquerade ball let your card have hints of the party by the style of the card.
Include theme dresses or colours for the Jack and Jill Invitations to create a fun party. Make it something mysterious or fun that encourages people to let loose and have some fun.
We have all heard this 'to make money you have to spend money'. I know the whole point of a Jack and Jill Invitation is to get money from your attendees but if you can spare bit to create a decent shindig then do it. This will keep the attendees happy and more appreciative.
Pick out a nice venue for the party. It should be not too far such that it discourages people from showing up.
Sell as many Jack and Jill Invitations as you can. The more you sell the more money have for your wedding.
‹

Go Back